5 Ways on How to Earn Money by Digital Marketing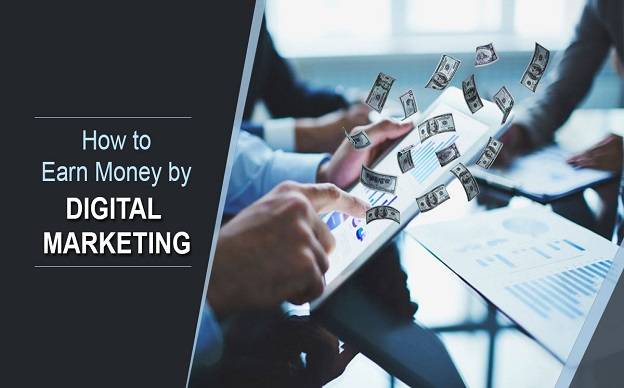 Digital Marketing has become a basic element of all businesses nowadays to drive huge traffic on your website. Apart from SEO, Web designing, and Mobile marketing, there are a few more techniques that come under digital marketing that can help you earn more money. Enlisted below are a few such ways:
Affiliate Marketing: This is the oldest type of digital marketing. It involves earning a commission on every product sold from the link referred by you. It is also called referral marketing.
Content Marketing: Creating and publishing free content online, intending to advertise a product or service is content marketing. The current trend in buying includes- query searching, wherein people search answers for all their queries about a product on the web; research, wherein people research for the various articles for the same subject and know its current market value, price, etc.; comparison, wherein people compare the different price quotes and decides on the price that suits them the best; buying, the last phase of the buying trend wherein, people buy the product. So, it is important to create content that will convince potential buyers to choose your product over others within the same market.
E-mail Marketing: It is a marketing tool that an advertiser sends to a recipient with the content of text and graphics, informing them about deals and products available.


Also Read: E-MAIL MARKETING TRENDS IN 2020 TO BOOST CONVERSION RATES

Blogging: Blogging is basically a personally written account of a writer on any topic. A blog that follows the current trends can have more visitors. Also, monetizing your blog by hosting ads can bring you more money. With genuine and steady content, you can attract more readers and earn their trust. Eventually, you can also advertise a product in your blog which can fetch you money if a reader buys the product through the link in your blog.
Social Media Marketing: A lot of people engage themselves in social media almost all the time and hence have a lot of potential in reaching out audience from a marketing standpoint. Different social media platforms like Facebook, Instagram, Twitter has a different user base or demographic. Thus, social media can be used to promote products or services to a wide range of demographics and help you earn more money.
Published by: cwt