Why Should You Outsource Your Digital Marketing?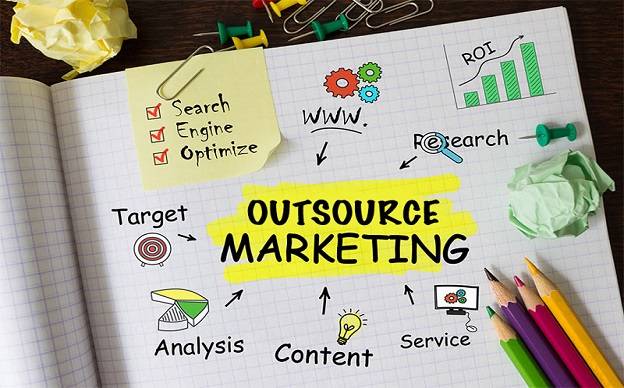 Digital Marketing is a complicated process and needs expertise for defining a marketing strategy or applying growth hacking tactics.
Outsourcing digital marketing, better results and access to real people who matter, can clearly be noticed. Without much delay, check out some reasons why you should outsource your digital marketing:
Outsourcing provides business insights and transparency better: Improved Returns on Investment (ROI) can be expected with adequate resources and systems to continuously review and fine-tune the digital strategy. A good digital agency maintains transparency on the client's investment and channels where it is being used. Being equipped with better insights, a reputed digital marketing agency knows the right digital channels for your business, helping your brand to grow bigger and better.
Outsourcing lets you have more room for innovation: Only when the marketing activities are minimal or limited to an annual general meeting or internal events, having an in-house team for promotional activities is good. An in-house team usually focuses on the internal workings of a brand rather than its external brand-building stories. To brainstorm ideas for strengthening the brand image, having an external agency is great as they offer a fresh perspective and come up with innovative plans for brand building.
Outsourcing helps you to have more focus on your core business: You can better focus on your core business by outsourcing digital marketing to an external agency as it saves a lot of your time and energy. Agencies can plan, develop and execute on strategies that yield results with the right information and tools in place. With experts taking care of executing the promotional plans for your business, you are provided enough time to focus on other key areas of your business.
Outsourcing provides assured ROI: To ensure that your funds are invested properly, digital marketing should be outsourced as they can focus on conversion, being experts in marketing. Outsourcing helps you save time and money while growing your business with experts by providing you with assured results for your investments.
Outsourcing provides a better presence and reaches across social media platforms: Facebook, Twitter, Instagram, Pinterest, and LinkedIn are social media platforms where brands thrive on. Outsourcing from a digital marketing agency is beneficial as it takes care of all the brand-building activities including telling your brand story through blogs, posts, videos, and catchy captions. Therefore, an agency that is more conversant with social media trends is worth investing for than depending on in-house resources.
Outsourcing provides latest tools and technologies ensuring success: Outsourcing digital marketing includes having access to the latest marketing tools and technologies for fast and accurate research, analysis and strategy, less repetitive activities, faster implementation, optimum ROI and faster achievement of business goals at no extra cost. It is more likely for agencies to not charge an extra sum as most agencies have a yearly subscription for those tools.
Outsourcing provides you with the best digital marketing team: To ensure success, a digital marketing team with expertise in strategy, research, analytics, SEO, campaign, content writing is necessary. However, to set-up, a digital marketing team is a costly and time-consuming affair. Thus, outsourcing digital marketing from an agency helps you in creating the right strategy for you by giving you ready access to a qualified and experienced digital marketing team. An agency promises you all the resources needed for focused marketing without the worry of maintaining a regular team.
Provides 360° digital marketing: Outsourcing digital marketing ensures increased traffic, better brand awareness and higher sales with a 360° digital marketing strategy by being active in multiple digital marketing and advertising platforms. Saving both time and money, outsourcing digital marketing is a faster and better option as initiating digital marketing with a 360° approach and managing it in-house needs a big team.
Provides a focused SEO: A digital marketing agency can help you grow better with effective Search Engine Optimization to create a strong media presence. With research, experienced SEO professionals will come up with strategies that fit best for your website. You can be assured of genuine traffic to your web pages with a well-thought and crafted plan. So as to increase your ROI, outsourcing digital marketing can prove to be beneficial by giving you suggestions for improvement with proper analysis and regular performance monitoring.
Published by: cwt