5 Reasons How a Social Media Marketing Strategy can Grow your Business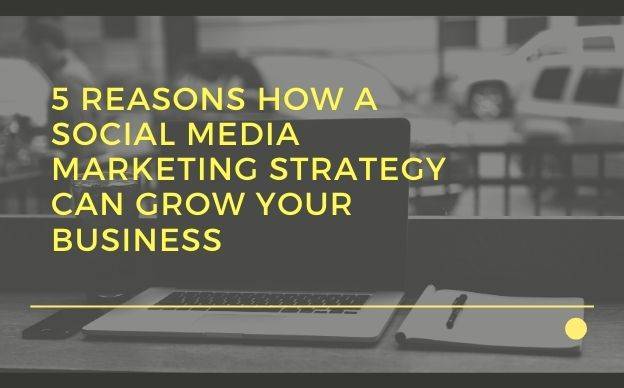 Social Media Marketing – a word that everyone is fascinated with these days. As of 2019, the number of active social media users in India stood at 250 million. Almost everyone today has a social media account. Social media marketing is probably the cheapest and the most effective way to reach out to a large audience. Let us look at 5 must-have reasons to have your own social media marketing strategy:
Increase Brand Awareness and recall
:
There is probably no other medium with as much reach as social media. Facebook, Instagram, Twitter, Pinterest are the favourite playing ground for some of the top brands of the world. A carefully crafted social media marketing plan can do wonders for your brand. You can reach out to a wide variety of people and showcase your brand. With intelligent creatives and strategy, your brand can make a permanent impression in the minds of the online audience and help in the top-of-the-mind recall. 
Cost-Effective Reach:
Signing up and creating an account is free on most social media platforms. An official business page is a great way to look professional and reach out to potential customers. You can invite friends to like your page and spread the word about your business free of cost. Even if you decide to go for paid promotions, you can start with a very low budget and reach out to a wide audience. By investing a little money and time, you can create a winning social media marketing strategy that will give you a significantly high ROI.
Customer Engagement and Retention
:
Social Media is a great way to engage with your customers. The more you drive engagement to your posts, the more are your chances of converting your visitors into customers. Q &As, Polls, fun memes, banter on a trending topic, showcasing a new product or service, teaching a new skill, etc. are effective ways to build an online social media community to drive engagement. Showcasing new products or services and acknowledging your previous customers online via mentions, rewards, exchange offers, etc. can help retain customers while building trust among prospective customers. 
Increased Traffic to the website
:
A brand with an updated and active social media presence will likely drive more traffic than a brand that has a dormant social media profile. Popular brands have driven more than 40% of traffic to websites using social media. Blog postings, click baits, video links, Call-to-Action buttons can help drive traffic to websites and help in generating direct sales. You just need a skilled digital marketer to help you create a winning social media strategy. 
Improved rankings on search engines
:
A lot of people don't actually connect social media presence to rankings on search engines. While optimizing your website and blogs for SEO still continues to be the primary factor for ranking improvement, rankings are also affected by your social media presence. A brand present on all major social media platforms that regularly updates content and interacts with customers sends out a signal of validity, consistency, and customer responsiveness to search engines which can positively impact and push up rankings on search engines. 
Social Media is a tricky place and a well-crafted strategy can help you achieve wonders for your brand and reach out a large audience. Many people consider social media management as just putting up posts but as a digital marketer who has been in the industry for the past 9 years, I would say putting up posts is only 10% of what social media is. A social media expert whether an expert or an experienced digital marketing agency like Tattva Creations can help you create a customized social media plan for your business and help you to put out your content to the right people.
Read our other piece on [su_highlight]How to create the best social media marketing strategy for 2020[/su_highlight]
With spiraling costs on every front, read this interesting article on [su_highlight]Why Should You Outsource Your Digital Marketing?[/su_highlight] from an agency and easily achieve your marketing goals. 
Published by: cwt